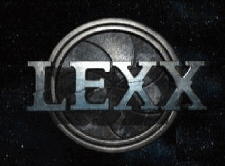 Hello People, Welcome to
Hanging with TheFrey
UScon Lexx Vegas
Took place on Friday May 17th thru Sunday May 19th, 2002

UScon Lexx Vegas was a meet and greet between fans that took place in Sin City itself. Since it was only really a Lexx vacation, I was not expecting any overseas' involvement. But happily, Elle91 and Idiot Boy were in the states on a long trip and they decided to grace us with their presence. Since there was no cast involvement, it was a small crew who gathered. But with certain exceptions, a good time was had by all. TheSpouse and I enjoyed meeting Catrice, Hawaii Kai, James, marty3dj , Micro Mary, HubbyEd, Weyrldy, Elle91, Idiot Boy and Xev69. But despite theSpouse's strong objections I do not think that Las Vegas was an ideal place for a mixed age crowd. There were just too many place that the younger crowd were not permitted. And with Las Vegas being so spread out, wandering off on your own for an hour or two was a logistic problem. We managed and had fun, but the next UScon will be in Atlanta at Dragon Con, Labor Day weekend 2003, The Dragon Con venue is more compact and the entertainment is less expensive.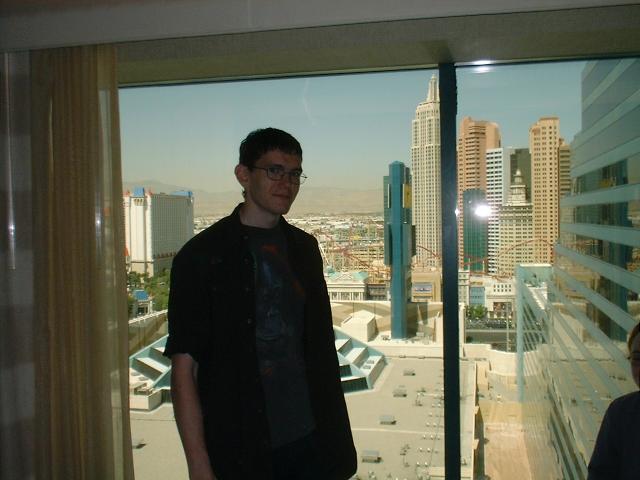 I stayed at the MGM Grand in the Emerald Tower. This place is freaking huge. It is literally a block from one end to the next. If you ever stay here, make sure you request a room by the elevator, since the hallways are very long. In fact it took twenty minutes to get from your room to the parking lot. I am so glad that we did not rent a car, as the cabs let you off so much closer to your destination. I went down to the food court to wait for Elle and IB to show up, unfortunately the MGM is so large and confusing that they had to call me on my cell phone to find me. This would set the tone for the whole event. it was I think, very much cell phone driven. :D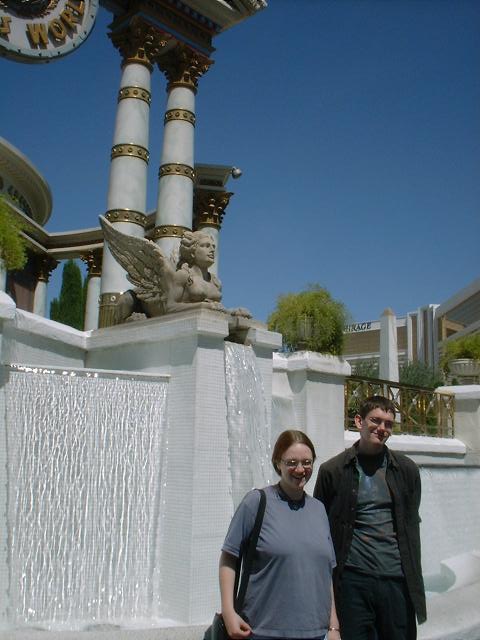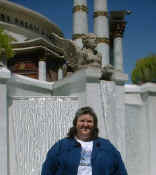 The morning I met Elle and IB we decided to go to Caesar's Palace to check it out. All the newer hotel are just gorgeous. And the facades are designed to lure you inside. Geeze, I wonder why. Hehe.
Caesar's is the hotel that made me aware of the problems of being in a mixed age crowd. The casino's, which have crowded out all the other places in this area, are very strict about the under twenty one crowd being any where near the gambling and alcohol. This gets to be a problem, since there is almost no place with out gambling and/or alcohol. I mean they even have slot machines in the airport waiting room for crying out loud. So we talked and were shoo'ed from one place to another. We finally ended up with me at a bar, getting a few soda's and juices with them being a few feet away, under the watchful eye of a security guard. We ended up perching at a closed shoe shine stand while waiting to for the tour of the magic show to start.
I am not going to spoil the secret of the magic room entrance, but the tour was well worth the wait. If I ever make it back to Las Vegas, I intend to do the Magic show banquet. The central chamber was so large, that none of my pics came out, it was impressive, and the singing skeletons were quite amusing at the bar. We then went up to see the mall area, with the animatronics show and all the other fountains and statues. I am a total sucker for statues and fountains. :D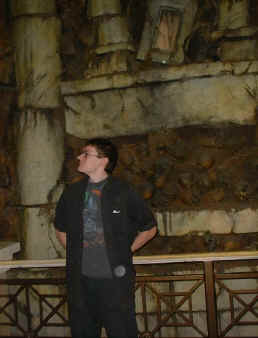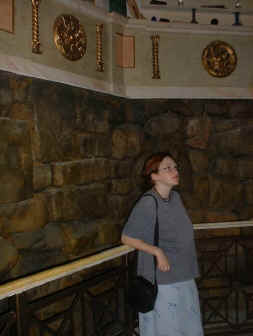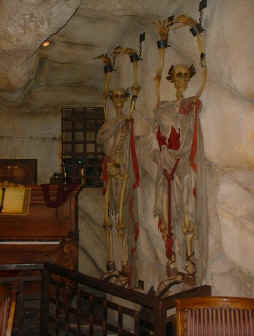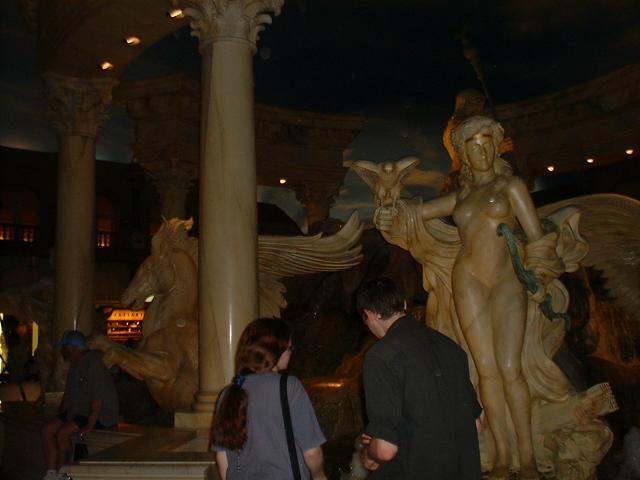 Eventually it was time to make our way back to the MGM to meet the others for lunch in the Rainforest Cafe. So back in a cab we hopped. The first one I saw was Micro. I could tell it was her by the Lexx Vegas badge she was sporting. After a very short time all of us were assembled, introduced to each other and finally seated. The food here was very good, but the portions were enormous! The interior decoration was nice too, with it of course having a Rainforest theme.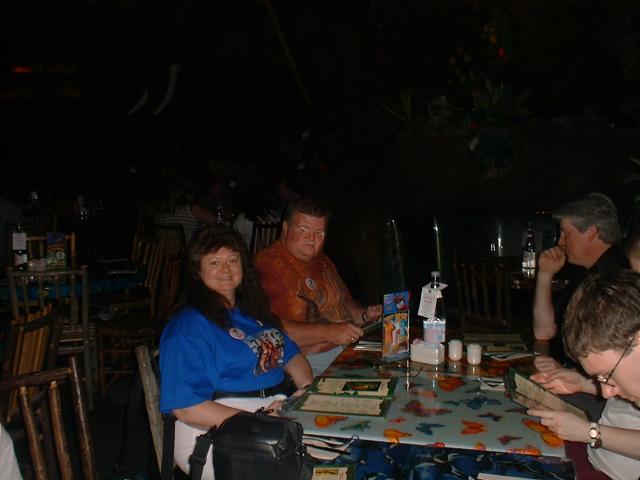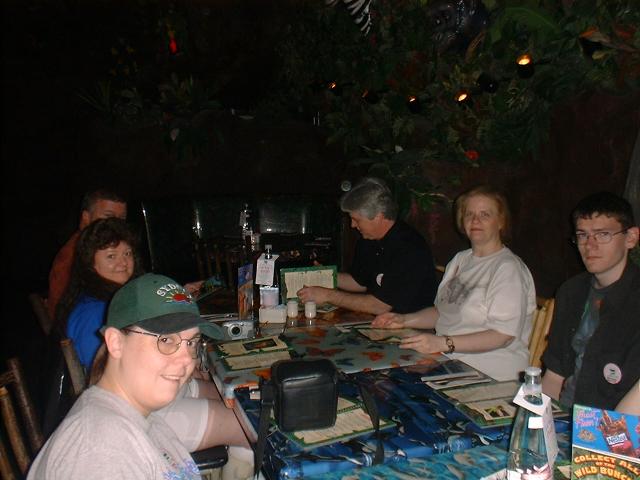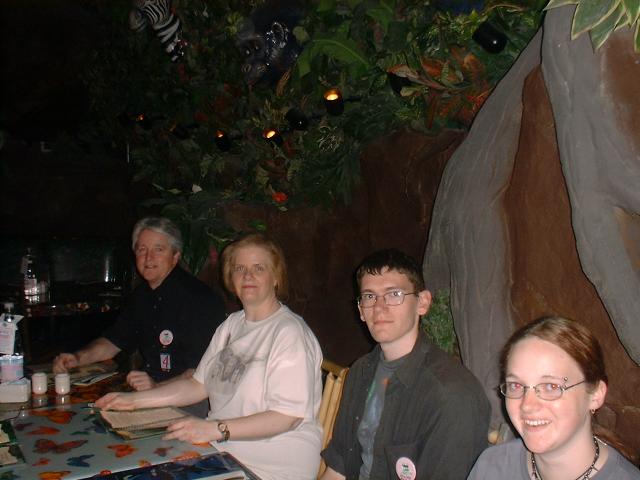 After eating way too much, we decided to go see the Star Trek Experience. So after a twenty minute walk to the parking area, we piled into Weyrldy and Marty's cars and headed for the Hilton. Since Micro and Hubby Ed had see it the day before they went to a stock car racing museum instead. The Star Wars experience was pretty interesting, with lots of costumes, timelines, artifacts, movie and live action to entertain. My favorite part though was the bar/grill at the end. They had strange drink names and odd menu items. The surrounding gift shops had quite a large range of merchandise from inexpensive to bank loan.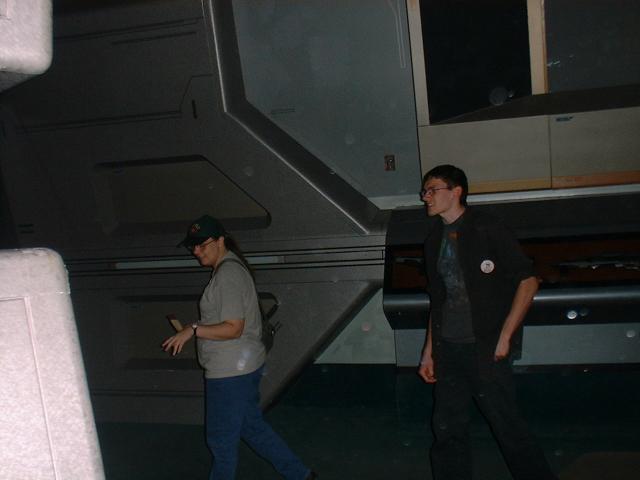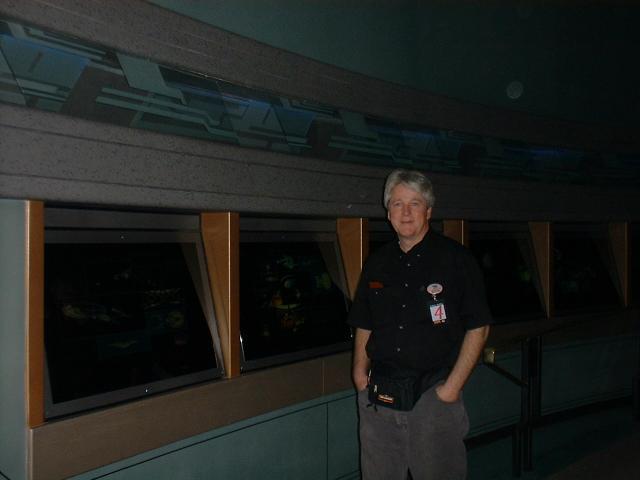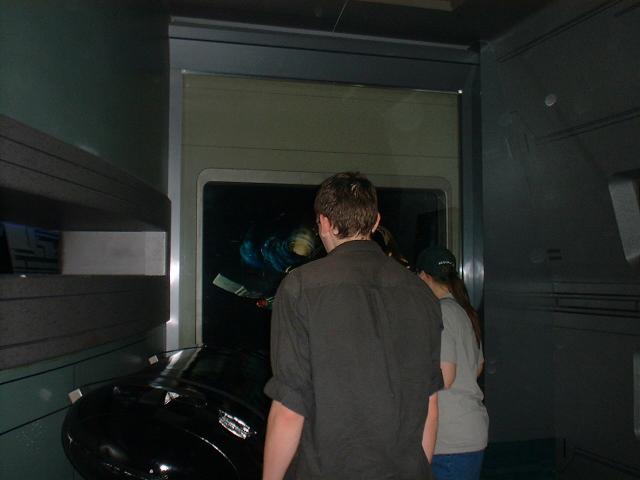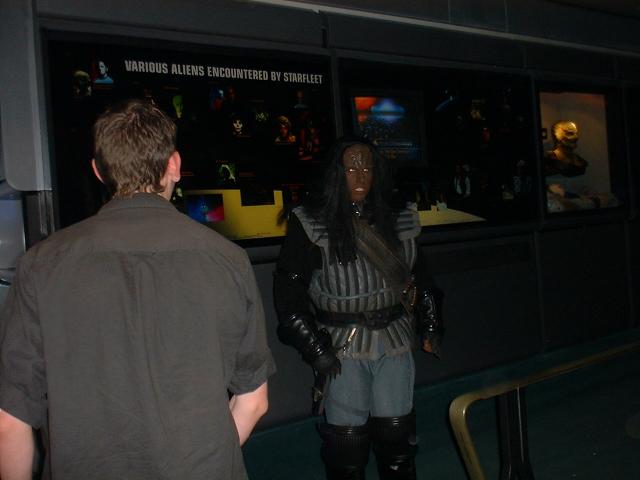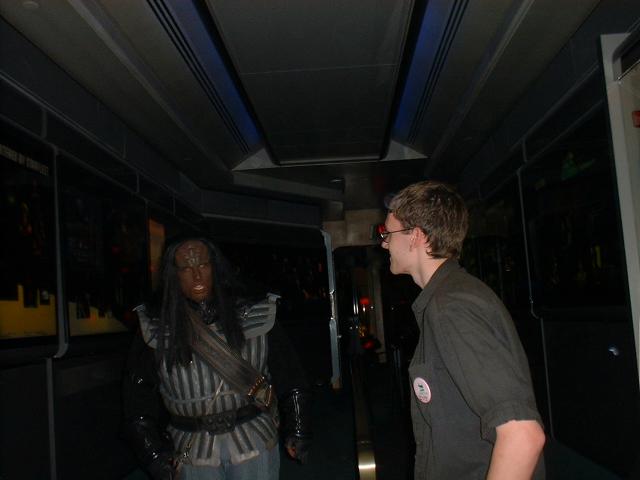 We later met up with Micro Mary and hubby Ed at Treasure Island. We wanted to watch the pirate battle, but it was too breezy for the show to go on. Apparently with all the fire effects, they have to watch that pretty carefully. One thing that was odd, were the signs all over the place warning of pick pockets.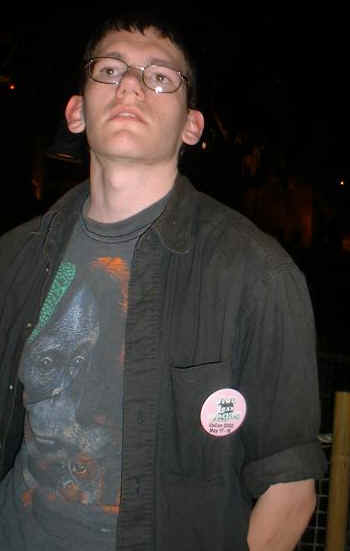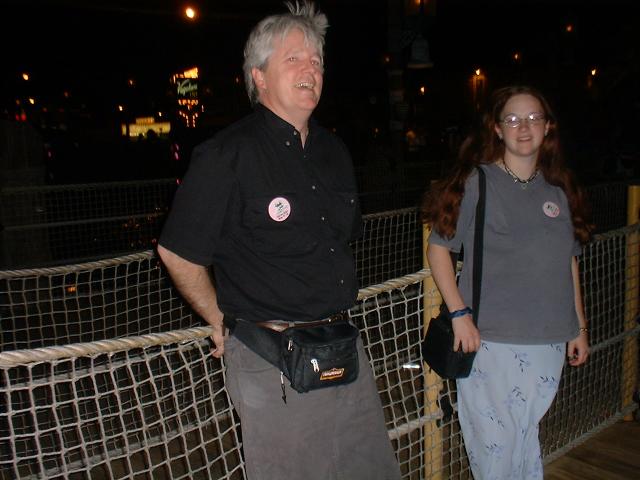 We tried to find a place to chat, but the age difference thing was working against us again, and the restaurant/bar with a view of the lagoon was closed for a wedding. Rats. So we ended up at a small restaurant in the hotel instead. But it wasn't too bad, and we got to chat some more. :D
Saturday, I woke up and went down to the food court to meet Hawaii Kai and a buddy from his old neighborhood that now lives on the mainland. A local Lexxian named Xev69 also showed up to grace us with her presence. I called theSpouse and we all went to breakfast together. We had a nice chat and then decided to go see the Liberance Museum. So I waved goodbye to theSpouse and we took off for the Rhinestone Mecca of piano players everywhere. Lots of strange stuff there let me tell you. We didn't get to see the cars, since they were being moved to a new annex location this weekend, but the other stuff was pretty nifty. After the museum, we went into the snack bar, watched a few minutes of Liberance tapes (which were for sale mind you) and proceeded to talk about.... you guessed it, LEXX! I am sure the blue haired crowd were glad when we left.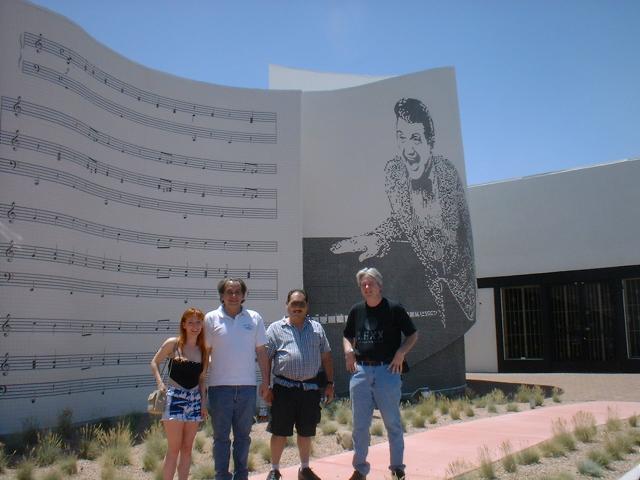 Next we headed to Mandalay Bay to see the Shark exhibits. Those were really great. I loved everything.... except the last tunnel with the glass floor. That, I did not like. :D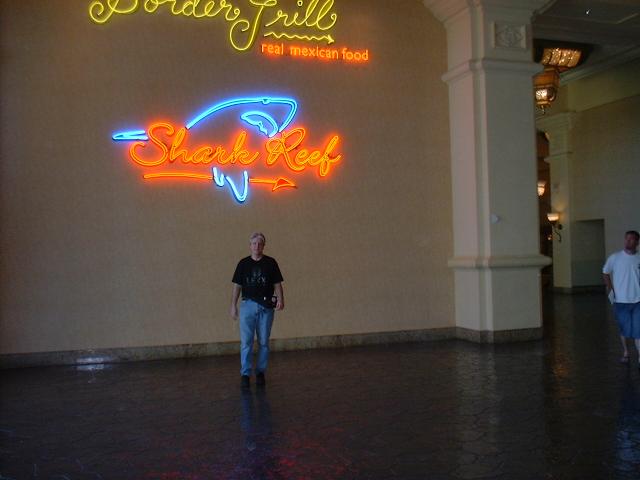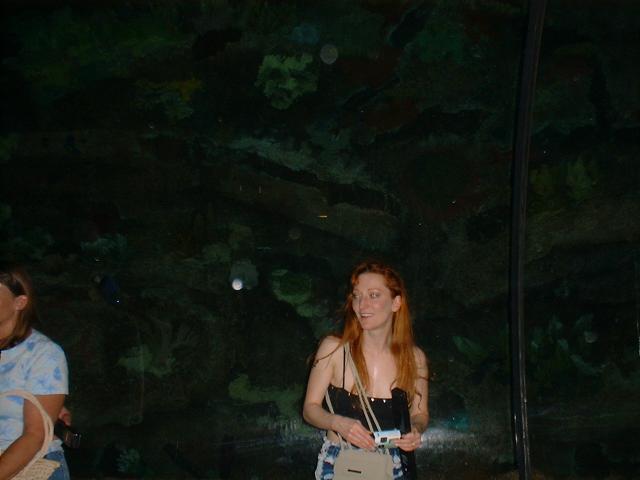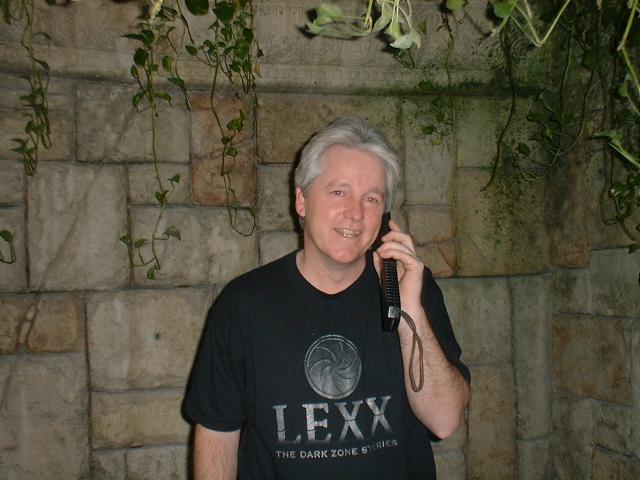 On the way back to the car, we passed the strangest wall. After much teasing, the good natured Hawaii Kai posed for pictures. Then a little way future down there was a great bar that we stopped at. It had a wall of water with flame behind it. I loved the whole look. So we decided to go in and check it out. They had lots of great drinks and a good time was had by all. Then we made arrangements to meet up for the Luxor thing this evening and they dropped me off at my hotel. I think this is when the yard of margarita drinking began. :)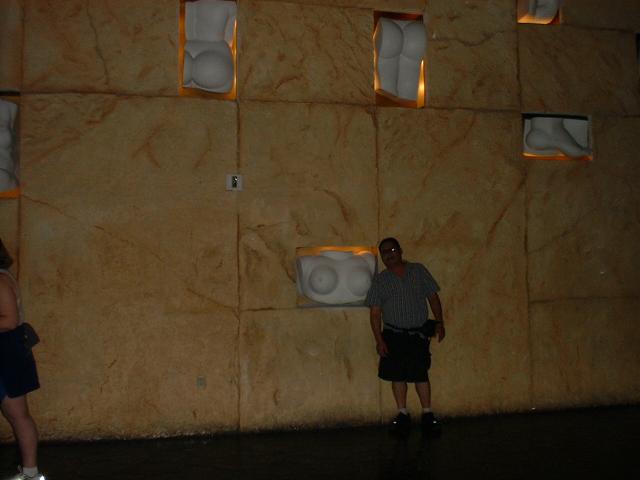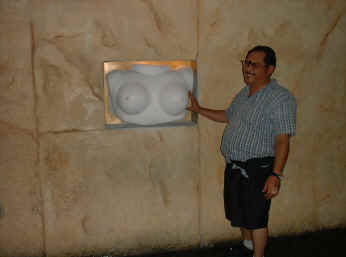 We met that evening at the Luxor. Now this is a hotel I love. The attractions are all in the center of the pyramid, none of this restaurants being a block away from the elevators ect... And the look! Well let me tell you, the old Egyptians were doing over the top loooong before Las Vegas rose from the sea. (Well okay I exaggerate, but a really, really long time ago) They would have heartily approved of this place. Nothing like a two or three story statue add a little decorative element to an area. I think the yard high margarita drinking continued here, but I wasn't keeping track.
We went to the Omini theater, and IB got yelled at for jumping over the barriers. :) We saw 'Space' with Tom Cruise narrating, I think that Micro likes his voice. :) We then decided to eat at the Peasants Feast buffet, but they didn't have enough tables for yet another group of twelve, so we had to sit at separate tables. Sigh.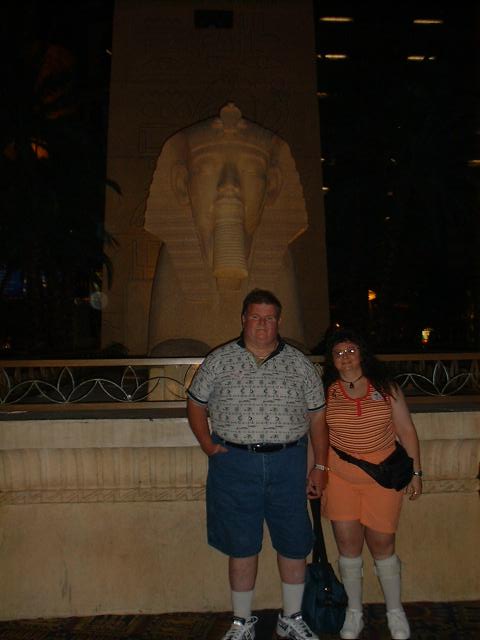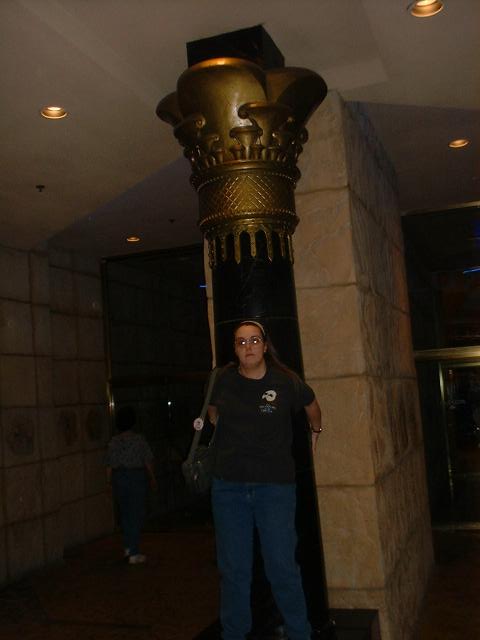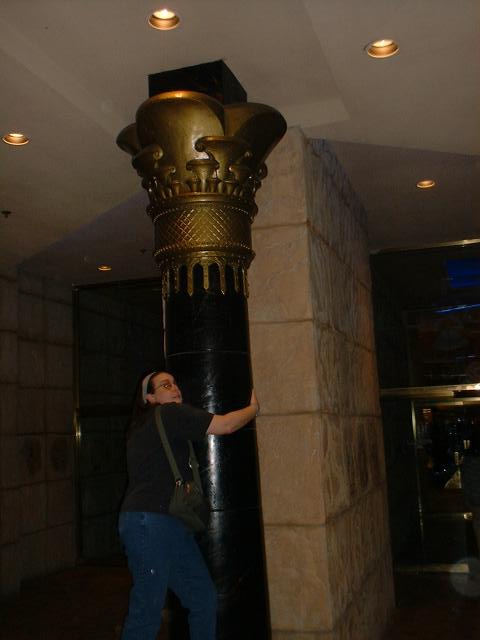 After the Luxor we went to the Dancing Fountain at the Bellagio, for some reason, Xev69 thought she could nip home and then meet us back here. We tried to convince her, that is was too crowded and that she would never find us. Well it turns out that she got stuck in traffic and never did make it back while I was there. Poor sweetie, I ended up nipping off home at midnight to spend some time with theSpouse.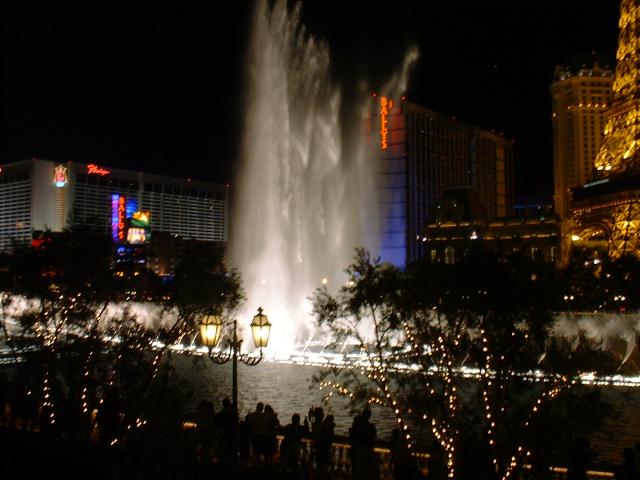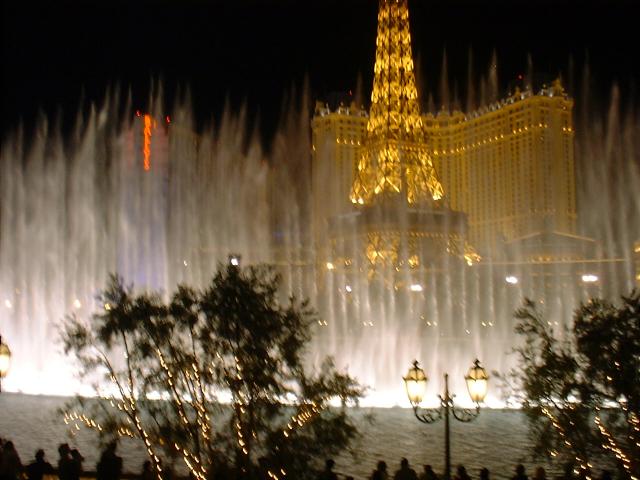 Sunday, theSpouse and I went to the Venetian to check it out, before flying out. Marty, being the saint that he is, was about thirty minutes away from Las Vegas when the Brit kids called him to see what was going on today. So he turned back to get them. Then he, Catrice, IB and Elle went to Hover Dam. Wasn't that sweet of him?
The LEXX names, characters and everything else associated with
the series are the property of SALTER ST FILMS &
TiMe Film-und TV-Produktions GmbH in association with
Screen Partners and the SciFi Channel. All rights reserved.